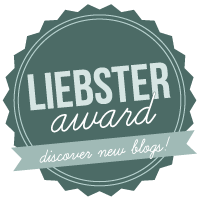 I had a lovely surprise today from blogger Kammi of Beauty Book Blog; She nominated me for the Liebster Award! Click the link to check out her lovely site!
So the liebster award… It's an award given to new and up and coming bloggers with small followings (generally less than about 200). It helps new bloggers connect with each other, and find each other! In German, Liebster means Dearest/loving – which is adorable.
So there are 6 rules for this award and they are as follows:
Link back to the wonderful person that nominated you

List 11 facts about yourself (it's optional, but makes it more interesting)

Answer the 11 questions given to you by the person who nominated you for the award.

Nominate 11 blogs/bloggers who themselves have 200 or less followers.

Think up 11 different questions for the people you are nominating to answer.

Then you need to notify your nominees so that they know and can answer and join in!
Here are 11 facts about me:
1. I am 24 and currently living in Virginia.
2. I have been a makeup artist for about 5 years.
3. I am also a photographer.
4. I am obsessed with Jean-Claude Van Damm movies.
5. I studied Castillian Spanish for 9 years in school and spent 5 months in Granada, Spain.
6. Can't stop playing Solitaire on my phone. I should have never downloaded that app.
7. I work for Dior as a freelance makeup artist.
8. I have worked backstage at NYC Fashion week.
9. I love having Lord of the Rings marathons with my sister when we are supposed to be getting work done.
11. I fell in love pretty much at first sight with my honey, Jon Zerbonia.
What is your favorite ever lipstick shade? Rouge Dior in 999
What is the most recent book you read? Game of Thrones
Do you have any pets? If so what do you have? I have one dog, an amazing mutt who is a mix of border collie, golden

retriever

and yellow lab

What color are your eyes? my eyes are blue with a bit of yellow around the pupil
What inspired you to start blogging? I decided to start blogging so I could share my journey through the world of fashion and beauty
Favorite fragrance? Miss Dior Eau de Parfum
Dream career? International Makeup Artist
What do you do to you relax/chill out? Sit in the sun and soak it up!
Favorite ever song? Lady by Regina Spektor
Do you have any tattoos? If so how many? none yet :/ but one day I will have Thor's hammer on my wrist :)
Favorite Superhero? Thor!
My Liebster Nominees are:
My Questions for those Lovely bloggers....
1. What is your favorite face cream/lotion?
2. Favorite type of bag (cross body, messenger, satchel, clutch etc...)?
3. Favorite genre of music?
5. Modcloth or Forever 21?
6. Have any pets? If yes what kind?
8. Favorite type of cookie?
10. Favorite dream shoes?
Off to tell these lovely bloggers that they have been nominated!
Thank you again Kammi for nominating me!